You need one. You need to remember the people you want to share with, the people that have ordered from you, the people that you simply want to further the relationship with.
Can you remember all their names, their important dates, (birthdays, shipping dates, start dates)? Do you worry that you will run out of people to talk to?
There are a variety of products for this on the market. Teamzy is one. There are others:
CityGro
Meeting Mapper.
HubSpot.
PowerDialer.
Nitro.
Opportunity Optimizer.
EchoSign.
FunnelSource.
Conga Composer.
I've not used any although I investigated Hubspot. I still prefer to use simple, inexpensive tools. I did attempt to use Address Book in our virtual office. I found it had limited methods of contacting clients. It does a great job of tracking dates, addresses though.
It's all about building relationships with people. It takes time to meet and learn about people.
First, an exercise
take 3 minutes to write down as many names as you can.
don't think about the person
don't worry that you'll have to call them immediately
get as many names as you can.
go
I recommend using Google Sheets to record your contacts and Google Drive for Cloud Storage. If your not technically oriented it's time. Find a friend, attend a course to learn. Don't let technology stand in your way.  Why, while you can record and categorize people in a manual memory jogger, I can't imagine doing it that way. An electronic system allows you to record, categorize and sort your list. Both Google Sheets and Drive are free for low volume users. I've used Excel and Dropbox but moved on to Google Products because they are available where ever you have access to the Internet. That can be on a laptop, tablet or phone. Again Go, Just do it.
Use your social media contacts, phone, clubs, volunteer organizations, use the 3-foot rule to talk to people, sports events, pick up a business card from boards, meetup groups, health-conscious places.
Categorize the people you enter in your memory jogger:
Green for friends
yellow for an acquaintance
Red for never met or you just follow them on social media
Star those that need Juice Plus Products or the business
Sort your list so that Green, starred people at the top and talk to them.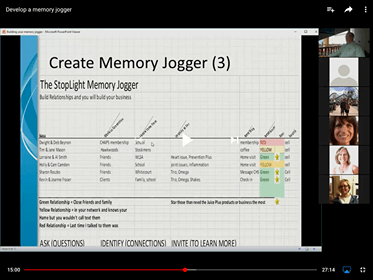 Screenshot of my Memory Jogger
The process is asking questions, identify connections and eventually invite to learn more. It's a continuum. If you invite someone and they are not ready, step back to asking questions and identifying connections. Remember to be interested, not interesting, it's not about you.
The big benefit to meet is that a memory jogger makes you more efficient with your time. Talk to the people that are starred and green.
Here is our recording of our Team Zoom.

Please like and subscribe our YouTube Channel